How did a political has-been in his mid-sixties, languishing on the backbenches of the British parliament, rise to become one of the giants of the twentieth century? Was it a simple book of quotes that set Winston Churchill upon the path to greatness? It seems highly likely. Even at the lowest ebb of his parliamentary career, Churchill was well known for his pithy quotes — quotes that are remembered to this day — and even though his views were often controversial, he was never a man who could be easily ignored.
Today, we remember Churchill as a great wartime leader and statesman. He was also a prolific author. Yet, it is for his wartime speeches that he is best remembered. They buoyed a nation and imbued within the British people a sense of pride, purpose and dogged determination — a winning attitude.
What was the secret to his success? By his own admission, Churchill had been a terrible student, required to repeat classes and regarded as one of the "stupidest boys" during his years at Harrow, a boy unfit for university education and destined for the military. My Early Life, the autobiography of Churchill's childhood and career before entering politics is very revealing.
"By being so long in the lowest form I gained an immense advantage over the cleverer boys. They all went on to learn Latin and Greek and splendid things like that. But I was taught English. We were considered such dunces that we could learn only English."
"As I remained in the Third Fourth (β) three times as long as anyone else, I had three times as much of it. I learned it thoroughly. Thus I got into my bones the essential structure of the ordinary British sentence — which is a noble thing."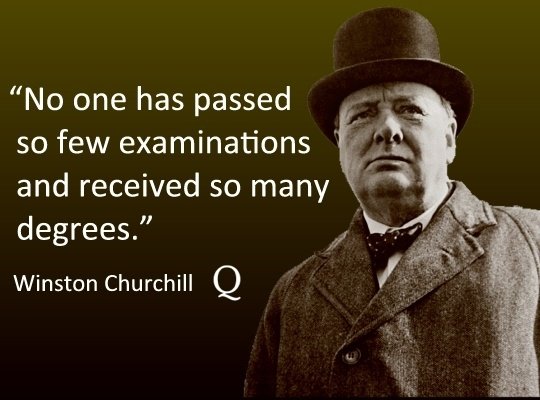 It is most likely that Churchill first came by a copy of Familiar Quotations by John Bartlett when he joined the army. He studied it intently, and he felt compelled to read the authors and "look for more". By Churchill's own admission, his desire for higher learning only came to him at twenty-two years of age by which time he was reading four to five hours a day.
During the years that followed, he became extremely well read and widely travelled. He developed a keen understanding of human nature, human history and human conflicts and their causes.
Churchill went to great lengths not only to memorize quotes but to create his own epigrams. In politics, he rehearsed his speeches in careful detail — often in front of a mirror – and as his career progressed, his wit and sage quotes flowed more spontaneously. Nevertheless, this was largely due to years of preparation and the enormous reservoir of practiced verses stored within Churchill's magpie mind ready to be tweaked as the occasion required.
---
Download a Copy of Familiar Quotes by John Bartlett
Available formats: EPUB, Kindle, HTML and Plain Text